Andy Matthews and Tony Besselink Achieve Nothing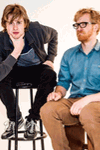 Show type: Melbourne 2013
Some are born with nothing, but Andy Matthews and Tony Besselink have achieved nothing. Let them take you on some kind of hilarious journey to learn some sort of important message or something.
Comedians
Reviews
Andy Matthews and Tony Besselink Achieve Nothing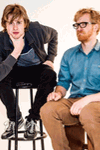 Andy Matthews and Tony Besselink might have achieved nothing in life, as their title states, but that's surely going to change, based on the promise so clearly displayed in these two hilarious sets.
First up is Besselink, who doesn't appear to start strong as he joins the ever-growing line of atheist comedians pointing out that the Bible doesn't stand up to much scrutiny. But his livewire performance, plus some fanboy levels of enthusiasm for other, better, works of epic cult fiction, sell it well.
He has jocular student sensibilities - not entirely surprising since he is an actual student - and a carefree life in which pulling a successful prank is the ultimate aim. Whether that's a competition with his brother to find the worst present or a disgusting meal, or winding up someone who sends him a text by mistake, he brings a genuine sense of fun to his high jinks.
Crucially, he tends to ends up the victim, caught up in his own tangled web of not-very-convincing lies – which is expertly described as he awkwardly, shamefully tries to extricate his way from a charity mugger.
Elsewhere he demonstrates a quirky train of thought, for example getting exercised by people who own lemon trees, surely a long-neglected topic of stand-up. But he really needs to work on linking his material together more smoothly: 'I like Christmas. One of the calendar days I don't like, though, is Valentine's Day' was just one of the clunking gear-changers, executed with all the smoothness of nails down a blackboard.
In contrast to Besselink's enthusiasm, Matthews is a dry, nerdy pedant – and in case you didn't notice, he points out that his first few jokes involve him confusing the dimensions of time and space.
Concepts such as 'minimum chips' naturally irk him, while religious zealots come into his firing line, too, as he applies that forensic mind to such obvious nonsense as preachers claiming natural disasters are warnings from God, or highlighting the circular arguments of those against gay marriage.
This is not groundbreaking stuff for a liberal comedian, admittedly, but he executes it with intelligent wit, knowing writing, and a good dose of self-deprecation. It's also more lively, and delivered with more confidence, than most newish, bookish comics.
It may be a show of two halves, but both have their strengths, and the pair prove that there are plenty of laughs (and cheaper ones at that) to be had with unknown names away from the festival's more high-profile venues. But be quick – their last performance is tonight.
Comments
Show Dates