Trevor Crook: Crookwit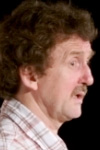 Show type: Melbourne 2009
Trevor Crook is one of the funniest, most respected and worst dressed comedians on the international comedy circuit. Come and see what makes him tick in his brand new show Crookwit, a follow-up to his acclaimed 2008 show, Bone Idol.
It explores his life - a bloke crushed by failed relationships, tortured by phobias, racked with anxiety, goaded by dysfunctional friends and cruelly mocked by the aging process.
This is an eclectic show of true stories laced with biting humour and achingly funny observations. Trevor delivers comedy with a cynical edge, direct, clever, unpretentious, and above all f***ing hilarious.
Crookwit will make you chuckle, laugh and above all give you a huge sense of relief that his life isn't yours.
Comedians
Reviews
Original Review:
Deadpan almost to the point of comatose, Trevor Crook provides his own ongoing review of his gig. 'That was an amusing routine,' he comments. 'Not hilarious, but amusing…' And that's a fair assessment of a show that's so low energy it's never going to really soar, even if dryly witty punchlines often erupt from the wallowing.
Crook's persona is of a broken man beaten up by the relentless series of disappointments that pass for his dull middle-aged life. He's been left such a weary husk that he almost hasn't the energy to perform, but he musters just about enough to vocalise his many aggravations.
Britain – where he spends half the year working – is one of his irritations, complaining at great length about how it's full of whingeing Poms without any apparent sense of irony at the fact that whingeing is his entire act.
He moans self-effacingly about his own inadequacies, particularly in the bedroom, although most scorn is reserved for his ex-wife, with material that can easily seem misogynistic, even though it's only really her that he hates. But the bitterness is almost tangible.
This is the same shtick, and sometimes the same material, that he's been performing for years now, so as a festival show it holds very little surprises – and the monotone delivery that can sustain a 20-minute set does become wearying over the full hour. But there are some gems if you stick with it.
Reviewed by: Steve Bennett
Melbourne, April 2009
Comments
Older Comments
Show Dates