Eddie Ifft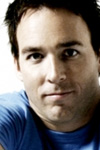 Show type: Melbourne 2009
Eddie Ifft is back in Melbourne after a complete sellout out season at last year's Comedy Festival and direct from rocking the New York stand-up scene.
Comedians
Reviews
Original Review:
Eddie Ifft is keen to defuse any potential offence in his material. 'They're only jokes,' he protests. 'And it's OK because I have a go at everyone.' The validity of that defence might be questionable – it has, after all, been used to excuse some of the most vile racist hatred masquerading as comedy – and, besides, it does nothing to defang his hard-hitting gags. If you're going to be offended by the image of the Pope being buggered by an Aids victim, no caveat is going to lessen that.
No, Ifft's biggest defence is that his jokes are damn funny. And they're often funny for the very reason that he is so gloriously uncompromising.
He takes to the stage with an arrogant swagger that it really takes an American to pull off. Whenever the audience flinches, even momentarily, at one of his more unpalatable lines, he derides them as a 'bunch of pussies'. Don't say he doesn't know how to work a crowd, prodding them, challenging them, shocking them – but always with the aim of making them laugh, which he achieves time after time.
Though he'd easily be classed as a 'nasty' comic, he's not shocking for the sake of it – or at least not overtly. He always concocts a reasoning that puts an insight and purpose behind his gritty punchlines.
His stage is only semi-lit, adding to the illicit ambiance of his act. This is the twilight world where comedy so often thrives: on the edges of light and dark, reason and outrage, hilarity and horror.
There's not great theme to Ifft's show, it's simply an extended set hitting familiar topics of drinking, race, religion, and the way Aussies wind up gullible Americans – but those targets are struck accurately, and from an obtuse angle.
He may have been on the NBC reality show Last Comic Standing, but don't hold that against him; this well-travelled act is one of the best straight club comics at this festival. Go see; but wear your extra thick skin.Reviewed by: Steve Bennett
Melbourne, April 2009
Comments
Older Comments
Show Dates