Eric: The One Man Sketch Comedy Show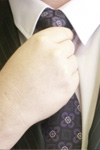 Show type: Melbourne 2009
One man sketch comedy performed by Scott Gooding, with writing from Adam Cass, Dom Golding, Emilie Collyer, Glyn Roberts, Lally Katz, Michele Lee, Ben McKenzie, Robert Reid, Robert Rorke, Nic Velissaris, and more...
Comedians
Reviews
Original Review:
Sketch shows will forever be damned by the description 'a bit hit and miss' – and by employing a large team of writers with a diverse range of styles, Eric hits that trap.
But the gimmick here is that all the scenes are performed by just one man, the impressively versatile Scott Gooding. As a showcase for his considerable talents, it's a huge success.
He's called on to act out a convincing fatal heart attack one moment, then switch in an instant to a high-powered TV producer pitching reality show ideas. One moment he's a smooth-voiced late-night DJ, the next he's an inflatable doll blowing in the wind. All this achieved with subtle physicality, as there are minimal props and he's always in the same dark suit and tie.
There's a good range of characters here, some recurring, some not, and the only thing linking them is – naturally enough – that they are all loners. Only in one scene does Gooding act out both sides of a duologue – an argument between a new homeowner and his inconsiderate Chinese neighbour – and it doesn't work as well as the scenarios when only one voice is heard.
A streak of quirky absurdity runs through most sketches, the best of which include the lecture on women by a baffled chauvinist, the proud huntsman displaying his trophies and the post-credit quickie that was brilliantly extravagant for such a brief gag. And if other scenes don't quite strike so squarely, well the pace is such that they're done before you tire of them.
The writers' varied styles hang together remarkably consistently, thanks to Gooding's nuanced, note-perfect performance and the deft direction of Scott Brennan, who's paid close attention to the tiniest detail. This ensures that while Eric is something of a high-concept experiment, the results are much more successful than you might expect.
Reviewed by: Steve Bennett
Melbourne, April 2009
Comments
Show Dates