Lin Dong Fu: Chinese True Confucians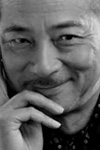 Show type: Melbourne 2008
Direct from Shanghai, a witty exploration of what is funny across the cultural divide - sage stories, anecdotes and jokes peppered with showbiz insights from one of the People's Republic's foremost cultural cadres.
Australian debut of renowned Chinese celebrity TV host, actor, voice-over superstar, raconteur and jazz impresario Lin Dong Fu with a show especially created for the Melbourne Comedy Festival
Comedians
Reviews
Original Review:
Lin Dung Fo is the first Chinese comic to have ever played the Melbourne International Comedy Festival, even performing some of his shows in Mandarin. But, unfortunately, a lot of the humour seems to get lost in translation when it comes to playing in English.
He is, apparently, a huge star in his homeland, partly for his own acting ability and partly because he has redubbed hundreds of Hollywood films for the Chinese market, providing the voice for everyone from Lee Marvin to James Earl Jones.
On stage, he cuts an elegant, avuncular figure and his stories from a culture alien to Western life are fascinating and accessible, whether they be tales of the 'yellow songs' banned under Mao Tse Tung's regime or his first ever taste of coffee.
But while they are told with a lightness of touch and engaging warmth, they don't generate too many chuckles; perhaps understandable given the societal and language leaps he must make. What is impressive, however, is how easily he closes that gulf, even if the miniscule culture nuances on which comedy is built don't make it across.
Forget Eddie Izzard trying to muddle through a gig in French, talking surreal nonsense to people with a similar European background, fiftysomething Lin's ambitions are much greater.
The easier gags come from wordplay between Mandarin and English, and several other Western tongues come to mention it, but they come over clunkily, since we're not familiar with the Chinese originals, which need to be explained. Contrarily, the anecdotes drawn from his own remarkable life are naturally more interesting, but harder to draw straightforward jokes from.
It's undoubtedly intriguing to see a Chinese stand-up, as even his struggles with our comedy conventions prove interesting, and it's certainly a positive move for a festival that calls itself international to look outside the English-speaking world for participants. He might be a long way from being the funniest show in the programme, but his inclusion is laudible.
Reviewed by Steve Bennett

Date of review: Apr 2008
Comments
Show Dates