Claire Hooper: Storybook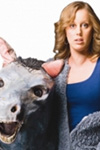 Show type: Melbourne 2008
Claire Hooper can tell a story. But to achieve her ambitious, self-imposed mission to solve all of your problems and discover the meaning of life she'll have to throw everything she's got at the job - costumed re-enactments, live animals and a few mercifully brief songs. After all, it's gonna make her millions and inspire future generations for years to come. It might even have a wizard in it.
Storybook sees Claire drawing on her rich theatrical background to produce a cabaret style of comedy incorporating music, dance, costume and some grand, visual 'storytelling experiments' to bring her extraordinary ideas to life.
Comedians
Reviews
Original Review:
Once upon a time, there was a girl called Claire Hooper, who was probably one of the most promising young comedians to emerge from Australia. But then she had one festival show which seemed to go a bit awry…
Storybook feels as if too much effort has been expended on the presentation, without much care to the fact that at its heart is some rather ordinary, if well-told, stand-up.
That proceedings open with the wide-eyed Hooper in a giant horse costume, serenading an owl in cardboard tree with her ukulele sets the tone. Someone's been gorging on the whimsy cake.
Thankfully, this cutesy façade is soon dropped, but it does set up some of the themes of the show. She wants to write her family story as a fairytale, complete with evil stepmother, as a way to soften the misery within it.
Hooper's mother came from grinding poverty in Liverpool, but found a way out through a ballet scholarship. But when she was deposited in rural Western Australia, where ballet isn't exactly high on the agenda, all that changed. There is a poignancy to this strand of Storybook, but it is wisely underplayed for fear of depressing the audience.
So alongside this we have readings from stories Hooper wrote in her own childhood, a few anecdotes from her life today – oh, and a promise to solve the meaning of life.
There are a few nice stories in the stand-up section, especially about her clumsiness at getting her hand stuck in the pay station that opens a car-park barrier; but it doesn't really connect with the rest of the show. She also tells us inconsequential tales of not liking her fiance's surname (Duffin – it's hardly the most comedy of names) or grappling with learning Mandarin. She has expert stage skills, and easily holds the room in rapt attention with these anecdotes, even if they are, in general, only mildly funny.
And for a show that's ostensibly autobiographical, we don't really learn that much about her. These routines are the stuff of engaging chit-chat among friends, rather than exposing much of her inner self. No problem with that, per se, but the show, and the hint of gravitas provided by her mother's story, seems to suggest higher ambitions than this.
The show is wrapped up beautifully, and the neatness of the finale does forgive some of the more mundane comedy in the middle. But, that 'happy ever after' ending aside, the show as a whole feels too much like a theatrical exercise in trying to present stand-up in a different way, rather than being either an absorbing piece on its own terms, or an hilarious hour of top-flight monologue.
Reviewed by: Steve Bennett

Date of review: Apr 2008
Comments
Show Dates
ADVERTISEMENTS
This comic also appears in: