Rod Quantock: An Convenient Lie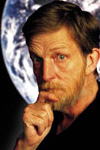 Show type: Melbourne 2007
The Peter Garrett of comedy, Rod Quantock, is back for his seven hundreth Comedy Festival appearance and a new show blah blah blah global warming blah blah blah water blah blah blah Iraq blah blah blah Paris Hilton blah blah blah he told you so. (Warning: Show may contain words)
Comedians
Reviews
Original Review:
Rod Quantock says this has been his most successful festival yet, which must be a sign that the rest of the world is moving closer to his leftish point of view. For he hasn't changed one iota in all the years he's been performing here, undimmed in his distain for the political right and greedy big business, unrelenting in his ironic teasing of all they stand for.
His longevity and consistency have made him a fixture of the festival; like the Tower of London ravens, you feel as if the whole edifice of Melbourne comedy would collapse if he wasn't around.
Quantock's hour also serves as a fast-track primer for the past 12 months of Australian politics – not that you have to be au fait with every ins and outs of government to understand it. With a leader following America to war like a puppy-dog and an ambitious Chancellor biding his time to take power, it's not that big a leap of imagination for a Brit to pick up the plot. There's even an Australian equivalent to Ann Widdecombe, both politically and physically, in the lumpen shape of Amanda Vanstone.
The utter contempt in which Quantock holds John Howard and his cronies is beyond hatred; and the sheer vitriol packed into his otherwise friendly banter is cause for much amusement. He's not alone either, when he asks his audience whether anyone has ever, even fleetingly, wished their Prime Minister dead, about 90 per cent raise their hands.
That he's charming and matey in his delivery disguises only thinly the miseries he attributes to capitalism, and there's a dark undercurrent about the deaths in Iraq. You can never be in any doubt of the seriousness of Quantock's intent – and were it not for his talents as a storyteller, you might leave suicidally depressed at mankind's prospects.
The lion's share of An Convenient Lie is given to the veteran comic's involvement in the so-called S11 demonstrations of seven years ago, in which police and protesters clashed violently outside Melbourne's Crown Casino, where the world's power players were assembled.
Quantock skilfully describes terrifying events, in which 'psychotic' riot police charged innocent demonstrators, raining down truncheon blows, fracturing skulls. Quantock and fellow protesters this year received compensation for the brutality inflicted upon them – a payout which has only inflamed right-wing commentators even more.
It's a story with impact and importance, yet told with an appealing lightness of touch. Quantock is a man who takes protest seriously, yet can still maintain a sense of humour as humanity collapses around him. Long may he continue to preach his gospel.
Reviewed by: Steve Bennett
Melbourne, April 2007
Comments
Show Dates