Mark Butler: It's Not Big, It's Not Clever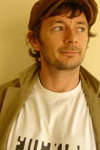 Show type: Melbourne 2007
Because of the uproar in the UK over the Australian Tourist Commission's 'Where the bloody hell are you?' advertising campaign, Mark created an online survey to find out if Australian attitudes towards swearing differ from those of British people.
Over 10,000 people responded. But because of a foolish (and possibly fictitious) promise made to his grandmother, Mark must share his findings without actually swearing. How does he do it? Come along and find out.
A sit-down comedy show about life in the modern world with clever jokes, stupid experiments, an electrocution machine and funny words like 'cock'.
Comedians
Reviews
Original Review:
Ah, swearing. Where would most comics be without it? So it was surely only a matter of time before someone decided to theme a whole show around the subject; and that someone is Mark Butler, a British comic now living down under.
But here's the twist. He doesn't say any of the words himself. The audience instead utter the 15 most offensive interjections, as determined by a survey, as Butler runs through the list.
We learn that obscenities used to be religious, then toilet-based, then sexual and now tend to be those targeting ethnic groups. As time marches on, the old words lose their power and new ones take their place.
Butler briefly describes the origin of each, and compares their relative offensiveness in Britain compared to Australia. But he is far from single-minded in his fascination with swearing. Instead, the chart gives him a loose framework on which to talk about anything which takes his fancy, the swear words merely serving as a convenient way to end each bit of stand-up.
So we get material on the annoyances of cold-call salesman, on the tedium of other people's holiday snaps, about the idiocies of America's evolution-denying religious right or how he's losing hair from his head but it reappears from his nose…
You might recognise that list as the contents a fairly typical, unadventurous stand-up set, with little to do with matters of taste, offence and decency. And this is where Butler misses a trick, in sticking to safe, familiar ground. The allure of a show about swearing attracts an audience, who you could then take wherever you want. Doing easy gags about 'what part of a fish do fishballs come from?' seems a wasted chance.
For that, though, Butler has plenty of appeal as a performer. He delivers his set from a stool, with quietly relaxed manner and a measured rhythm. His natural style is reminiscent of early Jasper Carrott, back in the days when he was good, and he is certainly entertaining company. But for a show about the power words have to shock, this surprisingly cosy.
Reviewed by: Steve Bennett
Melbourne, April 2007
Comments
Show Dates