Courteney Hocking: Un-Australian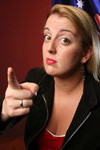 Show type: Melbourne 2007
Most relaxed and comfortable Aussies dream of an extended island holiday but, when David Hicks gets a free trip to Guantanamo Bay, it's suddenly 'un-Australian'.
Join Courteney as she examines the history of Terror Australis and its complex relationship with national identity, from Harold Holt to Andrew Bolt. Soon, Courteney will complete her final battle with the evil Lord Voldemort, but first, she must grapple with dark magic a bit closer to home.
Aspirational voters, bleeding heart leftie pinkos and un-Australians all welcome.
Comedians
Reviews
Original Review:
Un-Australian, the latest catchall term of the ruling political right to denounce anyone who dare disagree with them, has quickly spread to apply to anything from a controversial mufti to cooking steak badly. It's if being a citizen of one country now means you are legally obliged to follow an exactly prescribed set of values and behaviour. Hooray for freedom!
Courtney Hocking, as every socially aware comic should rightly do, wants to blow a big Un-Australian raspberry at the very idea – mainly by cataloguing the list of inane things that have been branded with this very 21st century epitaph.
Although vaguely leftist, Hocking isn't a hardcore political commentator, instead she simply takesg the news as inspiration for her comedy, and playfully messes around with it. Sometimes she gets stuck in over-familiar territory – there's really only a couple of gags you can do about the belief that suicide bombers are rewarded with 72 virgins in the afterlife, and pretty much everyone's already done them since 9/11 – but she find some good gags of her own, too. Deal Or No Deal and the plight of Australian Guantanamo detainee David Hicks provide two of the best.
Alongside the topical material and baiting of right-wing commentators, she shares schoolday anecdotes of her own, aimed at drawing parallels with politics and terrorism, but mainly succeeding in demonstrating her talents as an agreeable storyteller. Addressing the room without a microphone, she's engaging, down-to-earth company, with a cheeky glint in her eye and bags of unassuming charm.
Her routines could do with being sharper, and the show needs a clear path – and, crucially, a definite conclusion rather than fading away. She flashes her cutting wit a couple of times, but has the innate likeability to get away with it more often, if she wanted to.
With Un-Australian, Hocking has found a general sense of purpose, if not yet a truly clear, distinctive comic voice. But she's appealing as a performer, with time on her side to cement her own style.
Reviewed by: Steve Bennett
Melbourne, April 2007
Comments
Show Dates