Tripod in Self-Saucing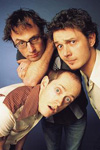 Show type: Melbourne 2006
This show has not yet got a description.
Comedians
Reviews
Original Review:
ripod are the sort of musical comedy act that put every two-bit, lyric-changing hack comedy guitarist to shame.
They write proper songs, they put proper jokes into them, and they perform them with classy style. And as long-time attendees of the Melbourne festival, they've built up an audience knows that well, and greets them with rapturous applause before they've even played a note. It is the rock-star welcome.
Key to their appeal is the simple fact that there are three of them, which gives Tripod not only a richer, more mellifluous sound than a one-man outfit – with harmonies and everything – but also provides for banter and teasing between each of them.
They even introduce each other using their stage personas. Scod is the nerdy one, Gatesy is the self-proclaimed idiot savant and Yonny… well, the bug-eyed Yonny is just plain weird. And with nigh-on a decade's worth of experience as a trio, the chat and insults flow freely and naturally between them - even without the music, they would be a decent comic act.
In terms of their approach, they set out their stall from the start with Beautiful, Slightly Autistic Girl – a typically folk-rock ditty that's as frivolous as it is ethically dubious.
Some of their topics are delightfully mundane, with songs about tall blokes in music gigs, the way the new King Kong movie remake was a little slow to get going, or the fact people have too many remote controls these days. Yes, they are essentially one bit of whimsical observation stretched out over the duration of a song – but there are usually enough asides to ensure the gag doesn't outstay its welcome.
Yet alongside that silliness, Tripod will introduce something as 'this is a song about the duality of man', or embark on a heartfelt expose over the plight of war-ravaged Third World nations. But don't fret – they are only gossamer sheets to disguise some more of the playfully immature jiggery-pokery that is their stock in trade.
Tripod have now reached the status of staunchly reliable performers, lacking the buzz of a newly discovered talent, but with a proven record of providing a great night's entertainment. This year's offering is no exception to that rule.
Reviewed by: Steve Bennett
May 2006
Comments
Show Dates