Michael Chamberlin: The Ten Commandments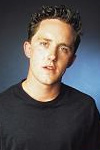 Show type: Melbourne 2006
This show has not yet got a description.
Comedians
Reviews
Original Review:
Michael Chamberlin wants to update the Ten Commandments to make them relevant to the modern age. Well, of course, he doesn't really – he just wants a structural device on which to hang various stand-up routines he's written. So this'll do just fine.
Lucky, then, that Chamberlin is a damn fine stand-up able to make the most of the scope the commandments offer to cover religion, sex, death and parents –the cornerstones of many a comic routine.
This energetic young comedian manages to take it to wider topics yet, from the Cronulla race attacks in Sydney to an imagined reconstruction of Mr Dewey, of library cataloguing fame, going into bars to score pussy.
All this is achieved with a passion and vibrancy that sweeps an audience along, however disparate the topics. He seemingly gets carried away with his own enthusiasm, too, acting out stupid, exaggerated scenarios with the child-like conviction that they're actually real. The best example of this are his immature conversations between God and Jesus, as portrayed only by his left and right hands, that evoke the juvenile spirit of South Park.
Add to that an ear for a nifty turn of phrase and an admirable efficiency of writing, and you've got an attractive package indeed.
The length of the show and the limitations of the format do expose some minor failings – notably an occasional problem finishing routines (resorting to a crude blackout a couple of times) and an awkwardness in moving between topics. And the tape recordings of him chatting to present-day pupils from his old school are extraneous.
But this is largely irrelevant. Chamberlin is clearly a talented, likeable comic with plenty to offer when it comes to having an uncomplicated good time, as this show ably illustrates.
Reviewed by: Steve Bennett
May 2006
Comments
Show Dates