Wild Duck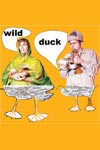 Show type: Melbourne 2005
This show has not yet got a description.
Comedians
Reviews
Original Review:
Every comedian strives to get their audience to lose their inhibitions, to forget the artifice of performance and laugh with unbridled, unselfconscious joy. Wild Duck, in one simple but brilliant explosion of silly childish aggression, achieve this conclusively.
Throughout the show, this inventive, anarchic duo serve up a relentless stream of stupid, physical sketches; disjointed, frenetic and surreal in the best sense of the word. But when Derek Ives and Asher Treleaven spark a hilarious soft-toy fight between themselves and their audience, anyone with a soul is guaranteed to laugh like a drain. Check any ideas about a cerebral night of thought-provoking comedy at the door, and you'll find this is possibly the single funniest moment of the festival.
It's not the only high point in this breathlessly bizarre show, which speeds at breakneck pace through all manner of daft shenanigans; from a seemingly never-ending sequence of pointless pratfalls that opens the show to the genuine Jesuit footbath 60 minutes later.
Physical comedy is generally broad, overplayed clowning – and this duo can certainly do that. But they can also do subtle, teasing odd laughs from awkward silences and the slightest change of expression.
Their show makes little sense, and that's no criticism. You simply have to strap in for the ride, ignoring the few bumpy sections in the knowledge that a thrilling piece of nonsense is sure to follow soon.
Such an unconventional style and quest for the wilfully weird could so easily have made for a painful hour of art-school pretentiousness, but with Wild Duck's talent, pizzazz and eye for a great gag, it becomes a wildly funny experience unlike any other.
Reviewed by: Steve Bennett
Melbourne, April 2005
Comments
Show Dates