Natives Getting Funny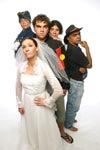 Show type: Melbourne 2005
This show has not yet got a description.
Comedians
Reviews
Original Review:
For all the international and local acts who flock to the Melbourne comedy festival, there's one sort of performer that's very thin on the ground: indigenous Australians. With just seven sporadic performances over the month, Natives Getting Funny is one small nod to the people whose land is hosting this whole event.
The four Blackfellas who comprise this showcase make for a mixed bag, offering a strange combination of performance styles, something different from the other shows on offer.
Compere Lionel Austin is a stand-up in the modern tradition, talking about his experiences of prejudice – whether it be the school sports teacher assuming he'd be good at the javelin or the tram inspector assuming he's fare-dodging. The delivery's a little stilted, but the main criticism is that he doesn't delve deep enough, or play the scenarios for more laughs, perhaps a problem with the limited time he has as MC.
Tammy Anderson performs in character, as a bride on her wedding day. It's a straightforward monologue, well told and sometimes witty, but getting its biggest laughs from the crude: whether it be tales of vomit, shit or the female answer to Puppetry Of The Penis, Puppetry Of The Pissflaps. A much better performer than she is a writer, Anderson nonetheless satisfies the audience.
Dennis Fisher, ake Den The Fish, is a very strange fish indeed. He tells a childishly simple tale, the only gag being its slow alliteration in a section brought to you by the letter P. All the population of the town of Porcupine have occupations starting with that letter, indeed almost every noun he uses does, too. Somehow it works, kind of, as a piece of lightweight participatory entertainment, with the audience supplying various missing words, but it's hard to know how to categorise this.
Lisa Bellear is a poet, broadcaster and, here, storyteller. Primarily, though, she's an ever-smiling beam of good nature, breezily telling of her trip to the dentist (which she rates as somewhat worse than 234 years of colonisation) with instinctive pace and rhythm, further enlivened by the silly use of the primitive clapsticks instrument.
Lou Bennett is the highlight of the show, performing in the guise of Captain Cook, put on trial for the damage future generations have done to the continent. Although portrayed as little more than a pantomime villain, Bennett makes him utterly convincing, and this politically charged monologue is as funny as it is thought provoking. England has got a lot to answer for, but even so her layered script raises questions rather than simply laying on the blame.
Reviewed by: Steve Bennett
Melbourne, April 2005
Comments
Show Dates