David Callan: I Spied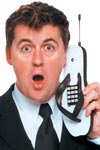 Show type: Melbourne 2005
This show has not yet got a description.
Comedians
Reviews
Original Review:
When it comes to autobiographical source material, Dave Callan's takes some beating – because he used to be a spy.
It's a background many comedians would kill for – and who knows, perhaps he did. In the course of protecting his homeland with the intelligence service ASIO, he must surely became involved in all manner of high-octane escapades: storming terrorist bases, seducing enemy agents and supping martinis, shaken not stirred, in five-star casinos.
Actually, he mainly did the filing.
This gap between the James Bond glamour and the mundane reality offers an obvious source of comedy. This is a world in which field agents are more likely to pose as photocopier repairmen than international playboys, and information on unfolding world affairs gleaned from CNN, not cleverly concealed embassy bugs.
But there is excitement, too, thanks to a compelling anecdote about a genuine hostage exercise, not to mention a smidgeon of politics about the bogus War On Terror, and many a tale of the absurdities of working in the inherently surreal world of espionage. It's all told with a jolly lightness of touch, although the sinister undercurrents of this shadowy life give his material a subtle, ever-present edge.
The fact Callan has been touring Australia for more than a year telling roomfuls of strangers of his past employment suggests he might not have the discretion needed. Thankfully, his talents for comedy are much more obvious – saving him from being some sort of antipodean David Shayler.
He's certainly sexed up his dossier of past experiences to create a hilarious show: nicely constructed, tightly written and performed with style and vigour. Callan's a skilful actor able to summon up a cast of comic cameos, from the aging security guards who controlled access to ASIO's headquarters to a conspiratorial Chechen terrorist and countless more besides.
And what better time to be performing such material? With self-serving politicians the world over using bogeymen like Osama Bin Laden to assault our freedoms and justify pre-emptive wars, the workings of the intelligence community is never far from the headlines – even though, as Callan emphasises, modern terrorism has been with us since 1914 Sarajevo, at least.
Having said that, he assures us that the ASIO spies have achieved some spectacular successes. Triumphs that, by their very nature, the world will never know about - and because of official secrets, he can't tell us either. But what do we care, when the screw-ups are so much more entertaining.
The cliché would be that David Callan is comedy's best-kept secret. But I Spied is so much fun, he surely won't remain secret for long.
Reviewed by: Steve Bennett
Melbourne, April 2005
Comments
Show Dates