Anthony Menchetti: Awkward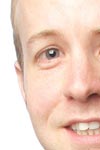 Show type: Melbourne 2005
This show has not yet got a description.
Comedians
Reviews
Original Review:
The premise is simple enough. Anthony Menchetti is socially unconfident, easily embarrassed and with a propensity to say the wrong thing. In a word: awkward.
This, his third solo show, explores that idea and offers solutions to how we all might avoid such uncomfortable situations – to make our lives 'more awkward-free' as he puts it, awkwardly. Why we would take advice from someone so obviously still afflicted by this terrible affliction is a moot point.
And the truth is, Menchetti never really capitalises on this simple idea. His anecdotal evidence is too lightweight and unexceptional to prop up the concept.
His tales of misunderstandings are slight, and tend to generate little more than a sympathetic smile, rather than a hearty laugh. The pace is a little sluggish, and the naturally underplayed delivery, which presumably aims to be endearingly delicate as well as fitting in with the theme of the show, instead fails to engage.
That said, a smattering of wonderful comic touches do provide bright moments in an otherwise flat hour, serving to show this Melbourne-based comic is capable of sparkling invention. His quietly charming songs hit the spot, especially a witty number celebrating the nervous half-laugh of the social faux pas, and the smart way he wraps up the show provides a neat moment of closure.
But there are other comics who cover this social misfit ground so much better – Daniel Kitson being king of them all, of course- and Menchetti can't quite raise his game to match.
Reviewed by: Steve Bennett
Melbourne, April 2005
Comments
Show Dates