Grainne Maguire: Where Are All the Fun Places and Are Lots of People There Having Better Fun?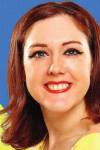 Show type: Edinburgh Fringe 2012
Witty and original, Grainne Maguire knows as much about the coalition government as she does about Cheryl Cole's hairstyle choices. She just wants two simple things from life: to sing 'Don't Go Breaking My Heart" with Peter Mandelson and always to be where the fun times roll. Her guide to happiness is simple: just don't miss out on anything. Ever. You see? Piss easy. Writer for 8 Out of 10 Cats, Radio 4's Now Show and News Quiz.
Comedians
Reviews
Comments
Show Dates