Sammy J: 1999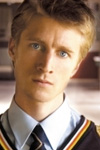 Show type: Edinburgh Fringe 2009
Melbourne's own Sammy J returns with a brand new comedy musical! Wind the clock back ten years to a time of innocence, floppy disks and awkward erections. The Wonder Years meets Wolf Creek in this twisted tale of schoolyard retribution.
Comedians
Reviews
Original Review:
The sound you're most likely to hear from the audience of the new show from talented musical comedian Sammy J isn't laughter, but a sympathetic 'aaah'.
For while 1999, a musical fantasy about a year in Sammy's young life, is sweetly endearing and expertly performed, it is only occasionally funny. Coming on the back of his deservedly award-winning Forest Of Dreams show, that can only be a disappointment.
In the year in question, Sammy is a chronically shy 15-year-old schoolboy geek, racked with emotional hang-ups and teenage self-loathing. While the boisterous jocks are discovering sex, he hasn't outgrown Disney films. No wonder he find friends hard to come by; he only has two – and one of them is his tamagotchi.
Yes, there are plenty of sly references to a time that seems so near and yet so far. Remember dial-up internet? Floppy discs? The millennium bug? But nostalgic references definitely take second place to character – a character you suspect isn't too far from home.
Sammy's clearly taken a page from Disney himself, proving expert at manipulating the audience's affections for this 'fictional' version of himself. He finds it easy to engender sympathy – especially, it must be said, among the younger, female contingent of the audience – for a delicate teenager who is so socially awkward he retreats into his music, producing work such as π: The Musical for his high-school class.
But, for the sake of a story, the autobiographical slides into fantasy as Sammy successfully concocts an unfeasible plot to join the in-crowd, winning the respect of his peers, ill-gotten financial gains and the affections of the beautiful Bianca.
There are plenty of brief musical interludes along the way, most notably the childishly witty Please Don't Get A Boner song describing his paralysing swimming-lesson fears, and the show is so robustly constructed that even the technical problems that beset this first-night performance can't derail it.
On stage, Sammy J radiates the warmth of a thousand-watt heater, which is why the audience become so sympathetic to him, and he isn't afraid to look ridiculous for the sake of comedy. Even when he turns bad boy, he elicits melodramatic gasps that he could betray his inner sensitive nerd for the sake of herd popularity.
Yet for all that likeability, solid gags are a rarity. There are a handful of very notable exceptions – sharp, unexpected lines that show exactly what he is capable of – but overall this is more about a broadly enjoyable ambiance and an engaging narrative than it is about nailing hilarious jokes. So while you're almost guaranteed to go away cheerful, you won't actually have laughed all that much.
The nerd may have turned, but 1999 isn't the all-conquering show you might have hoped for.
Reviewed by: Steve Bennett
Melbourne, April 2009
Comments
Show Dates