Die Roten Punkte: Robot-Lion Tour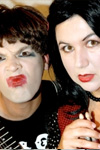 Show type: Edinburgh Fringe 2009
Die Roten Punkte are Berlin's Prince and Princess of Punk, Otto & Astrid Rot. Lipstick-smeared, narcissistic tantrum-lovers. A hilarious, absurd and sweaty rock 'n' roll odyssey.
Comedians
Reviews
Original Review:
Die Roten Punkte certainly rock. As a band, the take in influences from Kraftwerk to the Stones – plus the red-and-black aesthetic and twisted family dynamic of the White Stripes – and package it all into one rollocking night's entertainment.
In clown's white-face, smudging as the show gets increasingly sweaty, Otto takes centre stage on pounding guitar… and massive ego trip; while sister Astrid provides spirited support on drums and smuggled vodka. They crank out high-energy songs that are so close to the real thing, they're almost not spoofs. The parody is pulled of so expertly, you can't be 100 per cent sure tracks like Rock And Roll Monster or The 4:13 To Spandau weren't genuine krautrock hits of the Eighties.
Because of that, they seem like better musicians than they are comedians. While the lyrics are frequently witty, so are the lyrics of plenty of 'real' songs. The enjoyment is getting swept along in the febrile spirit of the gig, more than great gags.
They are fine physical performers, though, which further boost the enjoyment, Otto especially. He struts and pouts like Mick Jagger, while between the songs he reveals himself to fit the humourless teutonic stereotype. Since he takes himself so seriously, the laughs are amplified, made illicit by his stern deadpan.
As well as goading the crowd, there's the inevitable sibling bickering, which a course in interpersonal problem-solving hasn't quite solved. And more wry humour comes from the mangled English, both in banter and in the songs' lyrics.
You'll probably smile more than you'll laugh (though some of the band's die-hard fans will surely disagree), but you'll certainly come out of this late-night rock-out thoroughly entertained.
Reviewed by:Steve Bennett
Melbourne, April 2009
Comments
Older Comments
Show Dates