You Don't Need to Know That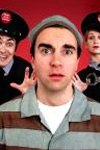 Show type: Edinburgh Fringe 2008
Beresford Jones is having a bad day. He's been arrested and no-one will tell him why. Now he must negotiate torture-mad policemen, over-zealous librarians and pop-singing lawyers to prove his innocence, avoid execution, win his freedom and the girl. Fast-paced comedy mixing paranoia, Kafkaesque nightmare and Ealing Comedy.
Comedians
Reviews
Original Review:
What an exceptionally pleasant way to spend an hour, in the company of fine actors performing a gently funny, well written and beautifully directed comedy play.
The Kafkaesque story follows the trial and tribulations of Beresford Jones, a man charged with a crime and facing execution. Try as he might he cannot find out what he has been accused of, but he is convinced he is innocent. He must defend himself against a corrupt system to avoid execution.
This may not sound like typical comedy fodder but the Gonzo Moose theatre company has done an exceptional job at serving up the laughs. Each gentle titter and guffawing belly laugh is gleaned from delicate and subtle writing and outstanding performances from the three actors playing the numerous characters.
Angus Barr, Mark Conway and Eleanor Harley certainly have a wealth of experience behind them, with years of touring festivals and theatres, and the high quality of their acting is testament to their passion for their art. The subtle nuances achieved by the quirks in physicality when they shift from character to character create a genuine sense of believability, even in the more surreal roles such as the two madly strange detectives who initially investigate Jones's apartment, stating that as the room is neither hot nor cold, it is of an apathetic temperature, indicating that Jones must be a man who cannot commit and is therefore a drain to society.
The play could well be a social comment on Guantanamo Bay, with Jones wailing that he will run away to the USA, the land of the free, where such miscarriages of justice could never happen. But if it is a social commentary it is not screaming its message as much as whispering it. The main focus of this show is to make people laugh, and it delivers.
The real injustice is that there wasn't more people in the room to see it.
Reviewed by: Corry Shaw
Comments
Show Dates