Umbrella Birds: Gym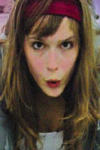 Show type: Edinburgh Fringe 2008
Return of the sketch team behind WC, the cult hit of Edinburgh 2007.
Comedians
Reviews
Original Review:
Last year, they were playing a toilet (literal, not metaphorical, like so many Fringe spaces), but this time it's a real venue – even if the Umbrella Birds' dedication to realism means that this collection of gym-based sketches involves a lot of physical exertion.
Keep-fit equipment litters the stage, and this endearing quartet spend much of the show running, rowing or lifting dumbbells as they deliver their lines. Well, it's one of the few ways to get fit over the festival.
The shared setting allows the scenes to gently tumble over each other, characters wandering in and out to use the machines, giving a graceful fluidity to the show. Not all the comedy is gym-based, much of it is simply two or more women needing a place to natter, but many of the best sketches do make use of the fictional location.
Stylistically, too, the humour is varied. Sometimes it comes from an almost off-the-peg comedy character, such as the confidence-building yoga teacher, sometimes from gently teasing the mundane realities of everyday conversation.
But surrealism is writer Emily Watson Howes's forte – with the weirdest scenarios proving the most fertile, such as the woman taking her training for a charity marathon run very seriously; the sheer panic of a monster attack; or the character who just happens to have the ability to grant wishes. The matter-of-fact treatment of the fantastical scenarios adds to their impact, as does the fact they are sitting alongside more realistic sketches.
Overall, the success rate of the sketches could be a lot better, with an average score around the 'nicely enjoyable' level. But they are all performed wonderfully by a talented cast (one of whom stands out as resembling a young Brenda Blethyn) with heaps of potential.
Reviewed by Steve Bennett

Comments
Show Dates