This Show Belongs to Lionel Richie No 2: Stand-Up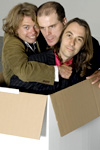 Show type: Edinburgh Fringe 2008
Happily running their own comedy club, they found out that they belonged to Lionel Richie. No bad thing. Enjoy quality stand-up from people possessed by genius.
Comedians
Reviews
Original Review:
When it comes to promotion, this group has got it nailed. Stickers proclaiming This Belongs To Lionel Richie are on almost every inanimate object in Edinburgh.
The man himself doesn't feature in the show, sadly - it's just a great name that's transferred to the group's many projects, which include sketch shows, comedy mobs and even dial-a-sketch.
This particular venture, compered by Darren Kisner, features the unholy trinity of Tom Goodliffe, Joe Baker and Barry Ferns. As each young comic takes the mic, none proves to have the skills to make his short stint a snappy one.
The gargantuan Goodliffe is genial but unmemorable, with some barely developed observational material, while Will Ferrell-would-be Baker comes on all mania and wild eyes but ends up trotting out a badly-cribbed version of Bill Hicks' crucifixion routine before fizzling out.
Ferns is the most confident of the three. His jokes about the burden of his name and the things that happen to him as a consequence of it would just about pass muster with a paying audience. But it's nothing that would encourage you to look him out again.
With an hour-long show, the group chooses to fill a large chunk of it with an extended gag about mock-Olympic sport Tape Measure Extension, in which audience members are invited to extend a tape measure as far as possible without it bending for the chance to win an album of panpipe music. Contestant urine samples are tested by the predictable good doctor before the winner is announced and a celebratory Polaroid taken.
It's fun to a degree but doesn't bear being dragged out throughout the whole show. The time might have been better allocated to giving the stand-up slots more time to get going.
The group is competent enough to hold the show together painlessly and there are a few laughs to be had, but overall it fails to live up to the promise of its brilliant marketing.
Reviewed by: Nione Meakin
Comments
Show Dates