Rule of Three: Sketchual Healing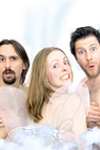 Show type: Edinburgh Fringe 2008
A unique opportunity to see three of the palest comedy performers in the world. They're so hot… they're white hot! See them now before the sun comes out. Featuring: Naked Angels! Extreme Tea drinkers! Scouse School Kids and everyone's favourite, the… no, we'll spoil it- you'll just have to come and see the show.
Written and performed by Brooks Livermore, Roisin Rae and James Card.
Comedians
Reviews
Original Review:
What sets a good sketch show apart from the Edinburgh crowd is its personality. Do the performers have a distinctive style and attitude that is unmistakeably 'them'?
With Rule Of Three, the answer is, unfortunately, no. They are more-than decent performers, but they could be almost anyone. There's nothing that defines them.
It doesn't help that some of their characters have a ring of familiarity, from the hyped-up Australian TV presenters branding everything 'extreme', 'awesome' or 'intense' to the bickering children.
There's a Spoonerism sketch that's pure Ronnie Barker; and the delicate public-school flowers speaking in street slang is fast becoming a cliché. It's hard, if not impossible, to top Armstrong & Miller's similar sketches with the wartime flying aces, so it seems fruitless to attempt a cheap knock-off.
They are better with scenes that are rooted in reality. The intoxicated party guest is entertaining – actor James Card makes for a good comic –and their best sketch, in which a wife comes back from a shopping trip boasting of her sales bargains, is genuinely inspired.

That said, their exaggerated caricatures of personal fitness instructors striking ridiculous poses at every opportunity is also stupidly funny. But it could almost be from a different show, so different is the brand of humour.
It's not just inconsistency of tone, however, that's the problem, but inconsistency of quality, too; with only a small minority of sketches hitting home. The trio all perform well, whatever the mood of the skit, but the writing just doesn't shine.
There is a practical problem with the show, too. And that there's too many long scene and costume changes, leaving lengthy blackouts that break any mood. Staring at an empty stage while listening to the Pointer Sisters for 30 seconds or more isn't anyone's idea of fun.
Reviewed by: Steve Bennett
Comments
Older Comments
Show Dates