Pegabovine: Polite Club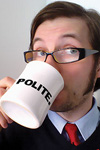 Show type: Edinburgh Fringe 2008
Sirs - Britain's politest comedy company respectfully request your attendance at a daytime soiree of songs, sketches and delight.
Comedians
Reviews
Original Review:
Pegabovine used to be a sketch group, so it's something of a surprise to see this is a one-man show. Even the Pleasance brochure refers to the 'comedy company', so quite what happened, who knows?
In the event, this is an inoffensive hour of cheerful, lightweight whimsy from the amiable Davis Wateracre. There really is very little substance here, but he is a very nice man.
The light-hearted subject of politeness suits him; with ever-smiling face, he indulges in cheerful banter with the audience as he asks us about a few moral dilemmas, and how we would react in that situation. Not much depth or discussion, just a bit of fun.
Alongside this are a lot of modestly sweet songs – thought the repetition of the cutesy acoustic-guitar style does become dull after a while – and a recurring scene of a would-be adventurer writing his slightly bizarre diary about his quest to tunnel through the earth.
Quite how these three separate strands hold together is a mystery, but they do, just enough for an hour of lunchtime froth. It would be impolite to award any fewer stars; inaccurate to award any more.
Reviewed by: Steve Bennett
Comments
Show Dates