Padraig Hyland: Lunchtime Life Lessons II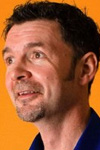 Show type: Edinburgh Fringe 2008
An Irish life coach and comic is giving lessons on life. So grab a beer and a sandwich and spend your lunchtime on the world premiere of a show that'll have you gagging with laughter as you learn about life and how to do it.
Comedians
Reviews
Original Review:
This is going to sound unduly harsh, but I have absolutely no idea why this is categorised as a comedy show. Not just because it wasn't funny, but because it made no attempt to be funny. It is a genuine self-help session, and rather a strained one at that, given that the audience were expecting to be entertained, rather than to join a workshop.
The amiable Padraig Hyland is a genuine lifecoach – not that you need any qualifications for that job other than simply calling yourself one – as well as being a stand-up. His aim, he says, was to mix the two. But aside from a couple of inconsequential welcoming comments, the comedy side is forgotten completely.
Instead he tries to drag an unwilling audience through his process, which involves him asking lots of questions and getting only muted answers. It's possible some audiences are more on message than today's crowd, but large part of it sounds like a schoolteacher desperately trying to engage bored teenagers.
We're shown magazine cuttings about Jordan and asked to give her advice. 'Come on, class, anyone? We covered this last term…' It's like drawing teeth, but Hyland has nowhere to go but audience participation, so this awkward dialogue falteringly continues through to a few Rorschach ink blots, where we say what we see. The idea is supposed to be that we can define our outlook by our own beliefs. Likewise, he seemed to argue, that we think the world is spherical (roughly) because it's simply what we believe, overlooking the reality that it's an easily provable fact.
Rationality took another battering during some banter about people's previous experience of self-help techniques, where 'cosmic ordering' – which suggests that you can have whatever you want if you just ask the universe nicely enough for it – wasn't treated with the derision it deserves. I guess it's Hyland's instincts as a lifecoach on show here, humouring his client's predilections, instead of employing the stand-up's reflex to take the piss. Perhaps the two sides of his life are fundamentally incompatible.
Onwards we march, making a list of things that make us as an audience feel good, dutifully noted on the whiteboard, then we find a punter with a problem – procrastination, as it happens – and he's given an exercise to help him overcome it.
If you're genuinely in need of some life lessons, this might help, I guess. I'm not qualified to comment. But if you're in need of a laugh, you would certainly be better looking elsewhere. That's the one lesson I learned.
Reviewed by: Steve Bennett
Brighton Fringe, May 2008
Comments
Older Comments
Show Dates