Literally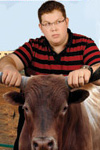 Show type: Edinburgh Fringe 2008
Frustrated by the misuse of the word 'literally', Paul Parry is teaching everyone a lesson. He's lost his marbles, gone to Hell and back and taught an old dog new tricks. Now he's taking the bull by the horns.
Comedians
Reviews
Original Review:
Paul Parry has a bugbear with which pendants everywhere will identify: that the word 'literally' is used wrongly literally 28 per cent of the time. To help spread the word, he's decided to live out some figurative phrases, then explain all in this PowerPoint-driven stand-up show.
Explaining his obsession, with particular reference to football commentators, proves enjoyable, enlivened with a few jolly puns and visuals, at least once he gets his PC working all right.
The problem with PowerPoint is that it allows the shy to become stand-ups, as audiences end up looking at the screen much more than the comic. Parry, a former Tube worker, is quietly spoken and fades into the background of his own show. Though his style is amiable enough, he never really commands the room.
His main story, of literally travelling from A to B, is about as entertaining as showing holiday snaps can be. A is Norway, B is in Nebraska, and Parry decided to cycle the route – or at least as much of it as the Atlantic Ocean would allow. The road trip throws up enough interesting anecdotes and observations to sustain this routine's extended running time.
But taking other maxims literally doesn't throw up material really worthy of repeating. Knowing his onions means studying the subject in tedious depth, to no practical use, while biting off more than he can chew results in a mundane description of a gluttony contest he took part in.
It seems to be that he committed so much time and energy to doing these things, so feels he has to use them. But great storytelling shows are as much about what's left out as what's included, and maybe Parry should have tried a few more cliches until he found the funniest ones.
The hour's wrapped up nicely as he returns to his main theme, but there's a definite need for an editor's eye here on some of the intervening material. A show like this needs no padding, but instead must try to squeeze a quart into a pint pot – not literally, of course.
Reviewed by: Steve Bennett
Comments
Older Comments
Show Dates