Gamarjobat: The Western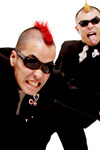 Show type: Edinburgh Fringe 2008
Brand new show. Japanese comedy sensation Gamarjobat return with a unique tale of love, tragedy and revenge in the Wild West. As seen on BBC's Blue Peter and The Slammer. Catch the award-winning duo before they are lost to TV and Broadway in 2009.
Once again Gamarjobat prove that actions speak louder than words. Prepare to be amazed by their unique physical skills.

Comedians
Reviews
Original Review:
Gamarjobat, the Japanese purveyors of magic and mime, bounce onto the stage stabbing the air with their neon Mohicans – and from that moment, no one in the audience is thinking of much else.
The show divides in two, with the first half forming round some beautiful traditional stagecraft, and you'll be glad to hear, a ten-minute tutorial on the correct pronunciation of their name.
The audience is divided panto-style and required to shout a syllable each. Red cards are issued to sections which fail to reach the required volume, while the vociferous are rewarded with exclusive tricks, performed behind a suit jacket so the other side cannot see. Without a word these two have cast a glamour on this big room.
With this achieved they launch the second half, a tale of rivalry in the Wild West, where the invisible sarsaparilla slides up and down the bar, and unseen bullets rattle tins and wrack bodies with a timing that's almost supernatural. There is a magical symbiosis between Hiropon and Ketch that is a real joy to watch.
For this show the childless should borrow some kids, the grannyless should grab someone from the bus stop. The rat-tat-tat of visual gags will hold everyone's attention, and probably squeeze a smile from the baby. It is truly a family show, transcending all the cultural and generational borders that can render so many Fringe shows less than universally recommendable. It's simply great fun.
Reviewed by: Chloe Smith
Comments
Show Dates