Dead Cat Bounce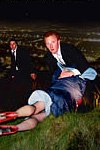 Show type: Edinburgh Fringe 2008
An unrelenting hour of sketches set in the same hotel room, with the most memorable finale you'll ever see performed by a cast of three.
Comedians
Reviews
Original Review:
As the audience files in, a woman lies stone-still on a hotel room floor while a radio blares out snippets of news over a menacing guitar track.
She is a prostitute, accidentally killed by a group of city traders on a bender and now nothing more than an inconvenience. When one of the men makes noises of concern about the situation, he is blown back by the roar of machismo from his colleagues and condemned as a 'whinging sissy'. And whinging sissies don't get to be vice-presidents, so he should drink another Braveheart (whiskey and aftershave) and shut up…
Late Night Radio is a sketch show with a brain and a black sense of humour. In place of cartoon and slapdash caricature, the Irish trio (Demian Fox, Shane O'Brien and James Walmsley) conjure up imaginative situations with believable characters. Each a fine actor, they gently mock the nuances of relationships and milk the humour in their dynamics.
A wheelchair-bound academic is forced to share a bed with a bitter rival; a terminally ill cyclist on a record-breaking tandem bike ride wonders at his stamina while his companion staggers in exhaustion in the background; a row blows up between a group of clowns after a bad gig.
It's not a laugh-a-minute, for sure. While thoughtfully, tightly written and performed, the sketches are at times an exercise in beautifully observed drama rather than straight comedy. It's more Nighty Night and League Of Gentlemen than The Fast Show.
When the group does do silly, it's still flawlessly controlled, as demonstrated when the idiosyncratic conventions of musical theatre are lampooned in a jazz-hands and cartwheels scene starring three sailors on shore leave.
The show can, at times, be too clever for its own good. You find yourself distractedly admiring the elegant dialogue or the way a scene has been crafted, rather than laughing at the product. The thoroughly researched characters are not always accessible.
Still, the depth and scope of the sketches and their consistently immaculate realisation makes this a show that stands out from the rest and suggests a group of which to expect yet greater things.
Reviewed by: Nione Meakin
Comments
Show Dates