Diet of Worms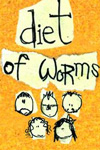 Show type: Edinburgh Fringe 2008
Irish sketch troupe.
Comedians
Reviews
Original Review:
This exuberant five-strong Dublin sketch troupe offer a mixed bag; but their best is very good indeed. And no one could ever leave without falling in love with their unlikely mascot, the Puffincat.
What originally seems like a whimsical gimmick, actually proves to be the backbone of the entire show. He's not just a cutesy character, but a mouthpiece of Soviet propaganda; and his genesis in a mind-bendingly bizarre Seventies kids' animation is exquisitely realised. It's probably the quirkiest, silliest, most surreal short film to be screened during any Fringe show.
He makes appearances in another couple of sketches, but the troupe wisely decide against over-exploiting him into being the entire motif of the hour. The Russian theme re-emerges a couple of times, too, thanks to some oddball entertainers, briefly glimpsed, or an ex-KGB man making a surreptitious rendezvous that involves some inventive (but unthreatening) audience participation.
Other highlights include a vigorous punk number that opens the show, even if one of the anarchists hasn't quite got the hang of smashing the system; the near-obligatory Tom Cruise pisstake; and a great short sketch in a key shop that wouldn't be out of place in any great sketch show you'd care to mention.
This brilliance is compromised by much weaker moments; a scene about bad puns is long and not even close to funny, and a song performed as a giant Elastoplast offers nothing beyond the instant impact of the silly image.
It's a shame these young, likeable quintet can't maintain the consistency of their inventive best, but they've certainly got the potential for greatness. They're talented, versatile performers, unafraid to try something a little different while keeping their eye on the funny. Cult success surely awaits.
Reviewed by: Steve Bennett
Comments
Show Dates