Adams & Rea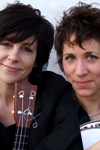 Show type: Edinburgh Fringe 2008
A tuneful take on all the things that really matter: national quiz shows, severed heads and large-print Catherine Cookson novels. Witty, dark and clever - these ladies know how to pluck.
Comedians
Reviews
Original Review:
These slick and talented duo provide a playful, undemanding, and occasionally brilliantly funny hour of musical comedy. Their dedication to professionalism is quaintly old-fashioned, as is much of their delivery style, but the sharp, teasing wit that infuses their infectiously catchy songs delivers plenty of laughs.
Sarah Adams and Leisa Rea bring artful performances to numbers about the drearily mundane across a wide range of musical styles – calypso to flamenco; rap to ballad. When all the pieces fall into place, the slyly subversive humour works excellently, although not every song fires on all cylinders, and sometimes they forget to add enough jokes to make the comedy more than the basic juxtaposition of great tune and trivial subject.
Such topics include library fines, Animal Hospital, shit corner shops and Test The Nation– all the major issues of the day. The wit is dry as sawdust, so when they add a vocal flourish or unexpectedly pointed lyric, the deadpan makes it all the funnier.
There's work to be done on the between-songs banter. They adopt the classic victim-bully dynamic, but the quality definitely dips when they're not strumming away. The quietly-spoken approach doesn't help, neither when they're chatting between themselves not when it leads to vaguely melancholic melodies.
But when they're in full flow – freestyling about litter or setting Silence Of The Lambs as a musical – their assured musicality and underplayed silliness really hits the mark. Satisfying, if not yet superlative.
Reviewed by: Steve Bennett
Comments
Older Comments
Show Dates