Take A Whiff Of ...Turpentine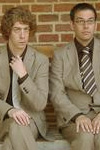 Show type: Edinburgh Fringe 2007
Shamelessly unsatirical, not-remotely-dark sketch comedy. Take a host of famous characters from history and legend, trap them in another dimension, then blend with a great deal of silliness. Comedy where you don't have to think.
Comedians
Reviews
Original Review:
Much of comedy double act Turpentine's debut fringe show coaxes a wry smile rather than raising a belly laugh. John Canfield and Richard Hutchinson promise 'shamelessly unsatirical, not remotely dark sketch comedy,' and the result, on the whole, is unremarkable.
Many of the ideas are pretty basic, gags often heard in some form or other on the comedy circuit including an irate travel agent customer mixing up Iceland, the shop with the cheap lollies, with the country famous for Bjork and its geysers. Plus there's an Ang Lee gag very close to the one Stewart Lee is better known for.
There's plenty here you can see coming and a running gag about a superhero policeman, though based on a nice premise, loses momentum rather than gaining it.
Nevertheless there are also skits that hold great promise, such as Van Gogh co-presenting a kid's TV art show and employing inappropriately verbose language to critique his own work, and a sketch in which the Swiss realise the Swiss Army knife isn't the weapon it could be is subtly played.
The pair's performances are mixed, Canfield displays ability but Hutchinson appears unsure and slightly hesitant in his role. There's a hint of a frisson and infighting between the players, a device unfortunately used a great amount this festival.
Overall it seems it's a little too early to take our whiff of Turpentine; the duo would be better tightening up their material and coming back later.
Reviewed by: Marissa Burgess
Comments
Older Comments
Show Dates