Trippplicate: Time Trippers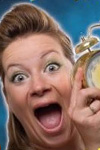 Show type: Edinburgh Fringe 2007
Writers' Guild Nominees 2006 return. Join Trippplicate on their hilarious time travelling romp! In a slapstick frenzy of bizarre characters with an occasional dark twist.
Comedians
Reviews
Original Review:
There's a pace and verve to Tripplicate's third Edinburgh outing that's hard to resist. This double act's most physical sketches are energetic and dynamic, and they've a nice line in pointed banter as they bitch and snipe at each other.
But as a whole, the show doesn't quite hang together properly, performed with not quite enough conviction to draw the audience completely into the daft, convoluted plot about a time-travelling gizmo.
They travel back to a few historical events, such as Leonard Da Vinci creating the Mona Lisa, but for the most part their characters – twin sisters – are more concerned with changing their own timelines, revisiting childhood dance contests, seeing their grandparents' sexual exploits or fixing an eBay auction so they win this time around. The debt to Back To The Future is acknowledged – and mocked.
Characters bundle in and out of the action at breakneck speed, all part of the whiz-bang spirit of the knockabout comedy. The athletic Katie Lyons puts on a vigorous display, countered by Morgan Lloyd Malcolm more lumbering presence. But when it comes to an hilarious mock fight scene, both more than hold their own.
You need brio to pull off the sort of nonsense they're aiming at, and this watchable duo certainly have that in spades - even if all the activity and excitement hides a certain lack of substance at the show's heart. But good fun all the same.
Reviewed by: Steve Bennett
Comments
Older Comments
Show Dates