Revels Student Comedy Awards Final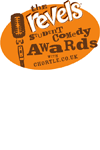 Show type: Edinburgh Fringe 2007
Revels and comedy website Chortle have trawled Britain's universities to find the 13 best student comics. Tonight, introduced by a top MC, these future stars battle for the title Student Comedian Of 2007 - plus £2,500 and a trip to Canada.
Comedians
Reviews
Original Review:
With 13 acts on a bill, it's hard to make generalisations, but the one thing that did stand out at the final of the Revels Student Comedy Awards – and indeed at the 12 regional heats – was the confidence of the young acts.
Entrants to the competition, which is run by Chortle, were not vetted, yet the overwhelming majority of contestants, even the very newest novices, had a professionalism and presence that belied their inexperience.
The winner, Tom Deacon, had that in spades: slick stagecraft, bags of energy and some decent material to back it up with. Certainly in the five brief minutes given to prove himself, he demonstrated the sort of ability that wouldn't look out of place on a professional bill.
He had plenty of support in the audience, but he could probably expect good reaction in most circumstances, given his crowd-pleasing combination of talents, including material that went below the belt without being tasteless, plus a rap delivered by an Australian with little to gripe about. Assured stuff all round, and a worthy winner of the £2,500 top prize.
After a brief spell of banter from host Jason Manford, Dave Howarth got the proceedings started with a solid but unspectacular routine about the chavvy shoppers he encounters in Leeds, texting when drunk and a unheroic encounter with muggers. He has an engaging delivery, and the crowd warms to him, but needs to find more interesting topics to explore.
Mickey Anderson was typical of the confidence-oozing acts, able to hold the room even in quieter moments of his routine. There are some very nice lines, especially on the shooting of lame horses, even if some of the rest of the set was undercooked. But he's certainly got style - and potential.
Goth comic Bethany Black took to the stage with a vibrator held triumphantly over her head, which is certainly a statement of intent, even if it's hardly an auspicious one. Thankfully, her routine is better than this portends – even her routines about, and involving, the dildo are less blatant than you would expect. A couple of references didn't quite connect, but she's always going to cut a distinctive figure.
Glaswegian Andy Vaughan started off all right, with a tongue-in-cheek joke about thieving scallies. But some mundane gags on the level of imagining Osama Bin Laden being good at hide-and-seek fell flat, and then the atmosphere took a distinctive turn for the worst. Too harsh an attitude, and too many humourless jokes about rape in particular, turned the audience against him, and the act received only a quiet reaction.
Some of Rodney Marques's material is quite bleak, too, but he has the charm to get away with it, and a subtlety in the writing that puts humour above bad taste. There's an edge to mentions of his family – most especially his damning of his stepmother – and an anti-BNP agenda that goes beyond the obvious. A good writer with interesting material, he took the £500 runners-up prize.
Kerry Howard started strongly with a couple of quick knob gags, but it soon became clear that's all she had. She's unconvincing about the sexual exploits she talks about, and her fixation on every biological aspect of sperm is as worrying as it is narrow. She has an agreeable persona and polished delivery, but needs to talk about things that really concern her, rather than heading straight below the belt.
Ed Gamble offered a classy character act in Selsdon Krupp, a godawful romantic novelist. His parodies of bad writing are exquisitely painful, and he's got a nice line in patter between the extracts, somehow managing to fuse arrogance and inadvertent self-deprecation in character. He was unlucky not to get a placing.
Dean O'Callaghan has a meek, nervous delivery with no self-assurance at all. But these things develop over time – and he's certainly got the offbeat material to speak for itself. He turns his weakness into a strength, making merry with his inability to pull off any form of acting, but most importantly demonstrates a keen writing talent, going down unusual routes with punchlines, too. Hopefully his successful appearance in this final will give his confidence the boost it needs.
Prince Abdi was introduced as possibly the only Somalian comic working in the UK, only to brilliantly puncture his own unique-selling-point so as to fit in better. He has a lovely style in his delivery – pacy, upbeat and infectious – that makes the audience warm to him. Set pieces such as his Bollywood reconstruction capitalise on that energy well, and earning him an honorary third place.
Ed Patrick didn't start that well, with a Rohypnol gag – but it soon emerged this was simply an appetiser for a much stronger joke. That tended to be typical of his act, some quite tired material, usually puns unworthy even of a groan, cheek-by-jowl with some more inspired stuff. But he, too, had an appealing vibrancy to his delivery and a cheeky, wide smile to accompany his every gag, which covered some of the material cracks – but not all.
Quietly-spoken Dave Steele had the least assured gig of the night, with weakish material based on his medical background, but it didn't need a mean-spirited punter to point it out. But his heckle was so uncharacteristic of an otherwise overwhelmingly supportive audience, it was, in some ways, the best thing that could have happened to Steele. He came back with a quick putdown and the rest of the previously indifferent crowd were spurred into supporting the struggling comic very vocally. Unfortunately, Steele didn't have the punchlines to capitalise on that turning point.
Still, this last-minute exchange didn't spoil a warm-natured night, which proved a valuable showcase for some impressive new acts. But you don't have to take my word for it, click here to watch the performances.
Reviewed by: Steve Bennett
Comments
Show Dates