Ladies Monthly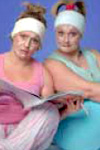 Show type: Edinburgh Fringe 2007
Bea Holland and Samantha Sanns invite you to their brand new raucous show, Ladies Monthly, an hour long flick and pick through the endless glossy magazines they have found themselves strangely drawn to before hurling them across the bedroom floor.
Join them as they hold celebrity culture by its ankles and shake it… hard. Through their charming, honest, self-deprecating stand up, savage sketches and ridiculous pastiche of songs from eighties cheese to West End hits, Ladies Monthly is a toxic concoction

Comedians
Reviews
Original Review:
This blunt satire on celebrity-obsessed glossy magazines wants to have its cake and eat it. Bea Holland and Samantha Sanns complain about the amount of space given to mindless trivia about famous nobodies, then dedicate much of their show to the very same Z-listers.
Jokes about Paris Hilton, Jade Goody and the like are surely as pointless as articles about them. If you don't care about these people, then gags about them aren't of interest either, especially if they are as limp as those on display here. Much better laughs come from the duo simply reading out extracts from Coleen Mcloughin's insipid magazine column.
It's depressing to think people buy this nonsense, of course, and more insidious that cynical publishers use such items as Heat's 'circle of shame' to make women feel insecure – so prompting them to buy their advertisers' products. Holland and Sanns do touch on this, and the show's all the better when they do, especially when they highlight a truly hideous, exploitative article recommending women have plastic surgery on places that would never be on public display.
But it's the only bit of substance in a show that's as lightweight as what it's mocking. It's all plinky-plonky comedy songs straight out of a Fifties revue; loud sketches featuring tediously broad characters such as agony aunt Ida Slappedher, and painfully obvious observations. They also seem to think that euphemisms for their vaginas is the height of wit, given how often they mention them.
Holland and Sanns are charismatic performers with energy and verve, but they're wasted on this juvenile, underwritten, unfunny nonsense.
Reviewed by: Steve Bennett

Comments
Older Comments
Show Dates