Liz Bentley: I've Only Got Myself To Blame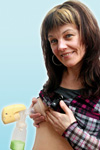 Show type: Edinburgh Fringe 2007
Armed with Casio keyboard, ukulele, a wealth of material drawn from her eventful life, Liz Bentley settles herself in for a fifty minute session with her audience.
Bentley is used to being on both sides of the couch. As a trained therapist though, you won't hear any Tittle Tattle about her clients - she has too much material of her own to share, having had therapy herself for seven years as she battled with bulimia, multiple sclerosis and exhibitionist tendencies on Greek nudist beaches. She has dealt with these things admirably and does not want your sympathy.
Comedians
Reviews
Original Review:
The lo-fi mood of this gig is set when, following the almost forgotten Eighties hits that form the walk-in music, Bentley slips up to the stage from the back of the room, takes a seat and hits us with some of her poetry.
It's a short verse that concerns a broken coffee table. Bentley looks quite serious as she gazes almost confrontationally out at the crowd. It's disconcerting as she explains that what she does is poetry (because it's 'easy') and that it had to be put in the comedy section as there's no poetry section in the brochure.
You're pondering that maybe this show was a mistake when she launches into a ditty about how a cyclist ruined her life and cracks her first smile.
Bentley's show proves to be one of the barmiest 60 minutes you could spend at the Fringe. There are more, many more, poems about the mundane – residents' association meetings, verrucas and breast-feeding – set to her amateurish yet charming ukulele and keyboard playing. The show feels raw and the talk, too, is of real experiences - of childbirth and her job as a therapist on the NHS – yet it's all compulsive listening
Bentley is beguiling. Her delivery is deadpan and acerbic, as the show progresses her unapproachable demeanour at the beginning softens, as if we had to gain her trust, rather than the other way round.
Later on there is surprisingly rich material to be found in the forms you have to fill out just to see a therapist and off-the-wall competition to guess the weight of her dead dog.
Though of course it's the reviewer's job to express why this was such an exhilarating experience, it's difficult to encapsulate. On this occasion, you're just going to have to go and see.
Reviewed by: Marissa Burgess

Comments
Older Comments
Show Dates