Joanna Neary's Little Moments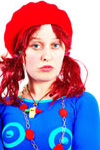 Show type: Edinburgh Fringe 2007
Joanna Neary returns to the Edinburgh Festival Fringe this year bringing with her a heaving multitude of characters, songs and childhood diary extracts from the 80's, all clamouring for your attention in a myriad of little moments.
As well as many favourite characters in new situations, Joanna will be releasing a whole lorry load of brand new creations all frantic for comedy asylum. Exchange car keys with Chris and Chris the male and female Swingers who've had to travel to Portslade to drum up new trade, gag at Les Miserables the Edinburgh stand-up comedian, waft through the world of Angela Funnell, watercolourist and silk scarf painter and experience the buttock-clenching embarrassment of one brave soul as she makes her public speaking debut on a most intimate subject.
Comedians
Reviews
Original Review:
In the past, Joanna Neary has done nothing to explain the characters and sketches in her shows. But this year she has decided to 'smash through the fourth wall' and address the audience directly between her cheerfully batty skits, which certainly adds to the experience.
She frames the scenes by reading from her teenage diaries, providing an increasingly personal feel. They tell of teenage life in Eighties Cornwall with a loose tooth and Lady Di haircut and the many boys that steadfastly ignored her conjuring a vivid, painfully funny (if only in retrospect) picture of her early life.
The meat of the show again involves a host of inventively drawn, slightly insane characters, some of which will be familiar to viewers of her previous shows. Having purchased a return ticket, Celia (inspired by Celia Johnson in Brief Encounter) appears again to share in clipped upper-middle-class tones her lust for any bit of rough she sees in the corner shop.
For those who laughed themselves sore the last time at Neary's Pan's People-style dance to Harry Nilsson's Without You should pack the ointment as they're treated to no less than two chaotic, Seventies-inspired dance numbers. Other highlights feature Bjork singing about the property market and a nervous woman giving a talk on sex aids.
As expected by now from Neary, all the characters are given a slightly crazed delivery and invested with an other-worldliness that sets her above your common-or-garden character comic. Quite brilliant.
Reviewed by: Marissa Burgess
Date of review: Aug 2007
Comments
Show Dates