James Sherwood's Somewhat Premature Review of 2007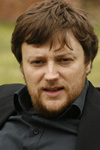 Show type: Edinburgh Fringe 2007
Looking at events in politics, the world, and his own life, James Sherwood reviews the year using stand-up and songs. The focus is mainly on events in the first two-thirds of the year. Events which, as a historian might put it, 'actually happened'. The show also considers the events of the remarkable September-December period. These events, it's probably fair to say, took everyone by surprise. What better time to look back at the events of 2007? Any time, you might say. Early 2008, maybe, when we know what the events of 2007 are. I mean, really. Sherwood returns with a show which is, let's face it, a bit previous.

Comedians
Reviews
Original Review:
If you ever wondered what would happen it Bill Bailey and Marcus Brigstocke had a child, here is the result. James Sherwood's persona is that of an old-school BBC presenter, with his middle class accent, tuxedo and masterful use of the English language. He is a talented musician and his piece grammatically correcting songs is worth the ticket price alone.
His premise is appealing, too: that he is hosting a New Year's Eve show, and although we can't see any of the other partygoers, or the cameras, they are definitely there. It makes him seem slightly bonkers but sets the scene beautifully for his Somewhat Premature Review of the year.
The first third of the show really flies, and contains all the best material. After this, the gags are less strong and crafted, and more simplistic.
It was also disappointing that the promised whimsical take on the four months yet to happen was so short. Sherwood is an obviously intelligent man and I was looking forward to seeing what predictions for politics and more random news events he could have mustered. Perhaps with more careful editing of the middle of the show there would be room for this.
However the finale, and the New Year's Eve pick-up song is well worth the wait: it is clever, funny and will have fans singing along.
Reviewed by: Rosie Carnahan
Comments
Older Comments
Show Dates