Toulson and Harvey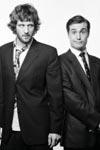 Show type: Edinburgh Fringe 2005
The explosive double-act rampage through today's demented world, exposing a sordid society in turmoil. Can Tony Blair defeat Evil Blair? Will talk show host Roger Righteous-Self outwit the Italian Minister For Upsetting Foreigners? Should Gangsta Rapper Arthur Old-Person be knighted? And can you really leap from a bridge and survive?
Comedians
Reviews
Original Review:
Virtual unknowns Luke Toulson and Stephen Harvey haven't made life easy for themselves with their first Edinburgh show.
This broad media spoof is a frenetic cavalcade of characters: fast-talking wise-cracking cartoons that demand considerable vocal dexterity and a punchy, energetic delivery. And they pull it off with style.
Poking fun at the vacuity of news programmes or the Heat-magazine celebrity culture may be a familiar comic target, but this never feels derivative, thanks to its pacy style and sparkling script. The lads' primary aim is not to score satirical points, but to bring our laughs – yet the message still gets through.
Everything's hung on three days of flagship news broadcasts, a brief timeframe in which a B-list celebrity threatens to leap off a bridge, the newsreader's off-screen relationship with his co-anchor falls apart and – worst of all – the programme's start time is put back because of the darts.
This gives structure and form to the brisk parade of sketches and exaggerated, thinly veiled caricatures such as the arrogant Kilroyesque Roger Righteous-Self or the randy, dry-humping Parkinson clone.
It's a great cast of bizarre over-the-top figures, funny because of their extremes. But these sweeping spoofs are also supported by some keen detail, with a smart script peppered with subtle asides and delicious non-sequiteurs laying down a rich comic texture. Even when proceedings seem to settle into a formula, the duo never lose the capacity to surprise.
It's a very verbal-based show - there's little in the way of props or visuals other than two chairs with their jackets draped over the back – and as such feels like an audacious bid for a radio show. Shame, then, that Radio 4 tends to shy away from media parodies –a sensible policy given that commissioners must be deluged with the things, although few, I'd venture, are as entertaining as this.
With this impressive debut, Toulson and Harvey have easily proved themselves a talented, charismatic duo with an incredible instinct for timing and pace. They are sure to find a way of escaping their virtual anonymity soon – maybe then they can be in Heat magazine themselves.
Comments
Show Dates