The Reggie Watts Tangent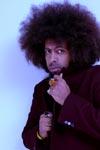 Show type: Edinburgh Fringe 2005
Described as "Seattle's own Bobby McFerrin on crack" (Seattle Weekly), his subjects for the Reggie Watts treatment range from ancient history, technology, magic, spirit elves, dragons, mythology and theology to pop culture. Often he will improvise a song to "clarify" his false inverted facts and stories, which makes the show a hilarious historical comedy with musical interludes.
Comedians
Reviews
Original Review:
The voiceover heralding the arrival of Reggie Watts announces that 'the performer has consumed a large amount of hashish'. It's not entirely clear whether this is a joke.
Watts is a bumbling, rambling, excruciatingly slow speaker, sharing the insane babblings of a confused mind. It's ideal if you don't have a stoner flatmate but still want to endure those tedious, sprawling early-hours conversations that never approach in the neighbourhood of a point.
There was once some comic invention at the heart of this, such as his admiration for Ray Charles or his stalking escapades, but the original thought soon gets lost in the dense fog. And it's so, so protracted. Every idea is battered until every last spark of imagination has been beaten out of it, rendering it bloodied and lifeless.
What you can say in his favour is that he's got a mightily impressive singing voice. But on my list of desirable comic attributes that comes quite a way down, somewhere between unusual hair and ability to beatbox – both of which he happens to have, too.
His vocal talents are, in fact, mightily impressive, spanning the spectrum from madrigals to rap. With the aid of a sampler box he provides his own backbeat, building layers of sound on top of each other to create the most amazing effects. His impression of someone scanning their radio dial, picking up snatches of conversation, static and music is truly sublime.
But between these brilliant set pieces is nothing but meaningless late-night blather. Some of the younger people in the audience seem to love it, but then some people like being peed on. There's no accounting for taste.
Comments
Show Dates