Michael Mee: Confessions of a Swot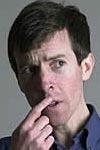 Show type: Edinburgh Fringe 2005
This show has not yet got a description.
Comedians
Reviews
Original Review:
Michael Mee has all the elements for a touching, eloquent show about the personal and social scourge of schoolboy bullying. Unfortunately, this isn't it.
This mild-mannered Irishman comes across as a nice chap, which is half the battle won. But it's not enough to overcome both a flat script and the stifling, sweaty heat of by far the most uncomfortable room in any main Fringe venue.
Tiny, swotty and Canadian-born, Mee was perfect fodder for the bullies at an early age – even more so as the teachers in his Cork school always made the bright sparks the focus of attention, getting them to read their acclaimed work to their, and other, classes.
But he escaped their clutches for several years, probably because he combined an academic prowess with a sporting one. That all ended when he inadvertently landed his entire class extra homework every night by confessing he didn't find it much of a challenge.
Secondary school, with its new set of schoolmates, provided no respite – in fact, the torment simply became more brutal as the bullies grew in physical stature. And this in a well respected fee-paying school, too.
After several years, after Mee learned to sacrifice his achievements for the sake of popularity, it did subside. Although his ordeal left its mark, he is over it now.
Mee tells his story in a linear, unemotive way, which proves to simple to make much of an impression. He simply recounts a series of events, without making us understand the pain and anguish they must have caused him.
Similarly, some major themes are mentioned, but underplayed. There's more to be made of why academic achievement is so unpopular and of the peer pressure that drives people to bully – ideas that are explored much better by Wil Hodgson in his Edinburgh show.
Mee still has something of the victim mentality towards the bulling – asking himself 'why me, was it something I did?' – yet also makes the interesting point that ex-bullies still believe that schooldays were the best times of their lives because only then did they ever get by through violence. But, again, there are more depths to this that go unexplored.
It's an interesting story that needs a director – and probably a co-writer - with strong dramatic sensibilities to make sense of.
Mee is an amiable chap, able to write some decent lines and at ease in front of an audience (well, he has been doing it since being made to read to his school class). But this is not enough for a show that needs more structure, variety in pace and emotional impact. Not to mention air conditioning.
Comments
Show Dates