Kevin Tomlinson: Unmasked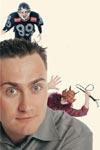 Show type: Edinburgh Fringe 2005
An original comedy theatre show about sex, love, madness, money and death.

The highlight being Kevin's skillful use of 17th Century Italian Commedia dell 'Arte half masks and his entering into a mild trance, in order to play a range of different characters.
Comedians
Reviews
Original Review:
It's certainly a twist on the usual improv show, using traditional wooden drama masks to help become a character; the sort of unique mix of theatrical techniques you can only find at the Fringe.
But for my money it's all a bit too actorly and serious, as if we've stumbled on a drama workshop rather than a completed show.
Kevin Tomlinson tells us he's going to get into character by donning his mask, 'doing breathing exercises to oxygenate the blood, then I look in the mirror – I haven't a clue what's coming out my mouth'. You have to fight the urge to tell him to get over himself – you can hardly imagine the Comedy Store Players bothering with such a serious-minded palaver.
Yet for all his Method, the two improvised characters he comes up with are remarkably similar, both bungling, loose-lipped Frank Spencerish fools who babble unconvincing explanations for their wrongdoing.
The luvviness continues as he acts over-matey with his cohorts, talks about how scenes he's done are 'crazy', 'weird' and 'fun' and perpetually seems breathlessly excited about the fact that lines are improvised. I don't mean to appear a philistine, but when he starts filling us in about the commedia dell'arte origins of one character he's going to play, I fight the urge to mutter under my breath, 'just get on with it'.
Aside from all this, are the improvised scenes any good? Well, up to a point. The show is slick, obviously professional, runs without major stumbles and is sporadically amusing. I've certainly seen a lot worse – and you wouldn't wish bad improv on your worst enemy – but then I've seen a lot better, too. Tomlinson – and despite his two sidekicks, this is very much his show - doesn't tend to land on too many gags, but rather gets by with lines that are only in the vicinity of amusing, delivered with conviction.
Most the audience seem less cynical and more accepting, however, and demonstrate they're willing to laugh because they run with the obvious spontaneity of it all. It would be churlish to deny at least two-thirds of them were having a good time, but for me, Tomlinson's antics, with or without the mask, left me cold.
Comments
Older Comments
Show Dates