Charlie Pickering: Betterman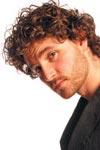 Show type: Edinburgh Fringe 2005
UK debut for Australia's most exciting young comedian. A story of self-improvement, world peace, higher consciousness and rock-hard abs.
Comedians
Reviews
Original Review:
Young Australian comic Charlie Pickering's debut Edinburgh show, has a little bit of everything in it. It has straight stand-up routines, Powerpoint presentations, bittersweet eloquence, some wonderful animations and a beautiful soundtrack from the late Elliot Smith.
For this, there is plenty to admire but, at the same time, there is a sense that it can never really decide what form it wants to assume.
One day, Pickering wasted an entire day of work by conducting an experiment going on childish stunt involving auto-reply emails and George Foreman. The futility of this endeavour led him to question what his life has amounted to and, eventually, to embark upon bettering himself.
His plan concentrates on the areas you would most probably expect: body, mind, self-image, soul and – more ambitiously – world. Yet this final category is appropriate as it seems that Pickering would be relentless in his desire to make everyone feel that little bit better.
Whether it is attacking lifestyle magazines for making people feel inadequate or running around one of the Gilded Balloon's sweatboxes with an enormous fan, on-stage Pickering is an instantly sympathetic man.
Which means the project is pretty much an exercise in futility. The characteristics in himself with which Pickering initially takes issue - his penchant for timewasting and the ridiculous - are still present as we see him now. This is clearest in the stand-up routines he delivers, revolving around monkey poo and whale breeding.
There is no doubt about the fact that they are competently written and efficiently delivered routines often loaded with some delightfully original comic ideas. However, their presence seems to undermine the show's concept because the audience are unable to perceive how the project has changed Pickering from the Rumble in the Jungle-loving guy he was at its outset.
Additionally, too few of the routines are actually centred on Pickering himself – as he presents general findings, observations and ideas - meaning that the show becomes not so much as a 'better man' project as a 'better world', and Dave Gorman's already used that title.
Yet, there is plenty to love in this hour. No matter what their relationship with the rest of the show, Pickering's routines – inviting us into his imaginative and slightly offbeat world-view - are always good and often great, and his sporadic use of animations will appeal to the lonely romantic inside all of us.
Pickering is an exciting find for the Fringe and, even if this show is not quite as fully realised and conceived as it could be, he will still be a name to keep an eye on.
Comments
Show Dates