Andrew J Lederer: Me And Hitler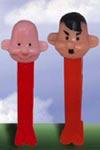 Show type: Edinburgh Fringe 2005
This show has not yet got a description.
Comedians
Reviews
Original Review:
On the evening I go to this show, Andrew J Lederer is so laid back that he could easily be sleepwalking. Not once does he take up his chair on the stage, preferring to mingle through the small audience and, even at one point, perform while receiving a massage from a Swedish girl in the front row.
Lederer's show, at least on this night, provides the interesting experience of finding yourself in the almost exclusive company of an eloquent, thoughtful and witty performer.
The show is based upon the premise of similarities Lederer has discovered between himself and Adolf Hitler. Although he runs out of time before reaching a conclusion from these discoveries, the New Yorker makes an interesting case.
To this end, he uses arguments, both surprisingly reasonable and far-fetched, and a collection of anecdotes involving, for example, infamous propagandist filmmaker and one of Hitler's suspected lovers Leni Riefenstahl.
Everything is performed with an admirable sense of irony, meaning that the show's comedy is more based upon subtlety and nuances. Lederer is clearly a historically informed man, being able to intelligently yet amusingly deconstruct the 1936 German economic crash. Little is embellished, meaning that his arguments often hold a remarkable amount of water, even if Lederer intends much to be taken with more than a pinch of salt.
The quality of the materiais high and the fact that Lederer delivers it all from one of the audience's seating benches means that his performance becomes all the more and engrossing. It is an interesting way of relating his show, creating a far more memorable experience for the audince than being addressed from the stage.
Lederer is easily distracted, and more discipline may be required, but Lederer has an articulate yet chatty style in which he delivers his refreshing and often stimulating hour.
Comments
Show Dates