The Virgin Club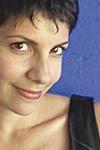 Show type: Edinburgh Fringe 2004
It's sexy. It's sassy. It's all about a twenty-something Greek Australian virgin with twenty-something reasons why she should and shouldn't have sex.
Comedians
Reviews
Original Review:
For someone who lost her virginity at 26, Australia's Phyllis Foundis has certainly lost her inhibitions about sex, to such an extent she's now happy to share her experiences with strangers.
So we learn the reasons why she was such a late developer were the big fat Greek hang-ups she inherited from her prudish parents; people who saw sex as something as both shameful and precious, to be saved for the right man.
Her mother's advice was hardly helpful. She believed sperm was 'waiting to pounce' from toilet seats and that masturbation saps your bone marrow. That beats the blindless myth.
Combined with the contradictory messages she was getting from the likes of Cosmo magazine, the fact that her cherry remained resolutely unpopped became a source of embarrassment, shame and paranoia.
Thus she tells of her near-miss encounters and the taunts of friends, in a theatrical monologue punctuated by films and audio clips, pretentiously called Conversations With Sex, in which Foundis explores her subject.
For a show that's been promoted with an 8ft penis walking the streets of Edinburgh, the execution is remarkably stylish, and Fountain proving herself an always-watchable performer with a neat turn of phrase.
But for all that, The Virgin Club feels too over-rehearsed; something that's been polished to such an extent that anything too personal or confessional has been buffed away. The sexiest organ is the mind, and we don't really feel like we know what's going on in Foundis's.
She describes what happens over the course of her barren years, but we never really understand her emotions, whether it be the fear of the unknown act or the desperation to get laid.
Also, for a comedy show, there are very few laughs, rather just the odd wry smile from a well-constructed genital-related pun. And a predictable catwalk parade of vibrators that simply shows off the models available shows a certain laziness in ambition.
Comments
Show Dates