Translucent Frogs of Quuup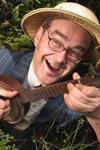 Show type: Edinburgh Fringe 2004
The Translucent Frogs of Quuup is the charming story of Anthony Marigold-Bentley and his new bride Edith, who leave the safety of the Surbiton/New Malden borders to take a canoe up the Amazon, in search of adventure, the eponymous frogs, and a bit of privacy.
Comedians
Reviews
Original Review:
This show justifies the Fringe: an absolute joy to experience, a totally unexpected gem of inventive originality successfully performed in an awkward three-sided stage. This is the most intelligent and sophisticated comedy script I've seen for years at the Fringe.
It is written and narrated by Chris Larner, best known as Clingfilm in the TV series London's Burning, but also a song lyricist of no mean experience, including contributions to the Morecambe and Wise tribute The Play What I Wrote.
This is a fully-realised semi-musical involving a 1922 English couple spending their honeymoon canoeing up the Amazon; he in search of the Frogs, she in search of a good bonking.
The script is wonderfully literate, brimming over with ideas, allusions, joyful innocence and sexual innuendo. This is the sort of traditional filth that has been missing from British pantos for too long and it went totally over the heads of four pre-pubescent girls sitting in the front row. This is not a play for kids.
Anyone who lyrically rhymes "Brazil" with "thousands of kinds of krill" is OK with me, as is any song that starts: "Life is like an aubergine - a purple vegetable I've heard about but never seen..."
This is a perfect stage production with a narrator and two script-linked coups de theatre, which I should not describe. It is extremely English and very socially sophisticated, so I doubt whether tourists would understand its nuances. But the show's flyer quotes a New York Times review: "pure showbiz rhapsody" so perhaps there is indeed West End potential here.
It is a four-star production which gets only three because of a plot twist towards the end which needs more work, and because the quietly melancholic end, though artistically successful, doesn't quite work with an audience wanting some upturn.
Comments
Show Dates