The Demons Of Addy Van Der Borgh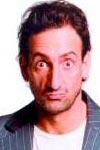 Show type: Edinburgh Fringe 2004
Using a potent mix of brilliant mimicry, offbeat character comedy and hilarious observations coupled with his incredible physicality, Addy tells the story of his battles with everyday temptations and distractions that conspire against him.
Comedians
Reviews
Original Review:
This is a brilliantly theatrical performance from Addy Van Der Borgh, skilfully employing all the disciplines of the actors' craft to illuminate his personal story of a battle with booze.
Inanimate objects, even intangible concepts, are convincingly brought to life though impressive physical and vocal techniques, as Borgh becomes everything from a bottle of wine, the metaphysical idea of insecurity or even his own genitals, which sound suspiciously like Robert de Niro. A simple but impressively effective trick with a mic stand and jacket conjures up more of the supporting cast.
But this imaginative, remarkable performance is used to illustrate relatively lacklustre material. What he talks of is almost a catalogue of bad comedy staples ­ drink, cannabis, cheap TV, how women store up information and the embarrassment of shopping for tampons. Borgh has a charming way with metaphor that elevates these so-so topics into more than you'd have the right to expect, but it's still far from exciting.
And despite the title, the show also doesn't reveal a great deal about the demons that haunt him. We hear about the effects of drinking too much, from the confidence-boosting highs to the hangover lows, but not the causes which made him so dependent in the first place, or why he found it hard to break such addictive behaviour, other than simple temptation. The show is simply descriptive, rather than exploratory or revelatory.
But Borgh himself is spellbinding, proving himself not only an accomplished vocal actor of great diversity, but also a fine comic actor, with perfect timing and physicality. Now all he needs is to find a better way to harness those fine talents.
Comments
Show Dates