Sven Stacy: Showbiz Agent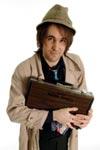 Show type: Edinburgh Fringe 2004
Sven Stacy, Showbiz Agent, is set to deliver his "masterclass" on understanding the world of entertainment - how to clinch that television deal, how to make sure your CV is read by a casting agent (bold italics, always a winner) and why you should always have a back-up plan stashed in the briefcase.
Comedians
Reviews
Original Review:
Gareth Tunley brings a great deal of spirit, conviction and energy to his shabby showbiz agent, but it's still not enough to make the character sufficiently interesting to deserve an hour of your time.
Sven Stacy is very much in the Arthur Daley mould of unethical rouges who, if not loveable, at least deserve credit for misguided effort.
In dodgy raincoat and long-since unfashionable tie, Stacy claims he can sniff out talent and, with the tools in his "suitcase of dreams", make you a star.
So he persuades one member of the sparse audience to try his hand at stand-up, another couple to read through a scene from Silence Of The Lambs, in an attempt to test their star power. All the while, advice on how to cope with the cutthroat world of entertainment is dished out in the form of a lecture.
There are a few entertaining mixed metaphors and garbled analogies, but most of the content boils down to uninteresting homilies about the ruthlessly fickle nature of showbusiness, which really ain't that fascinating when delivered in this third-person, matter-of-fact way.
Some elements of pathos are revealed as it becomes clear that Stacy has fallen on hard times and turned to the bottle. But these seem to be added as an afterthought, rather than being intrinsic to a character who maintains the same stance of jaded optimism throughout.
This character mightn't be bad in a short-form sketch format ­ and he's a product of the Ealing Live! factory of just that sort of comedy ­ but it simply proves too slight a premise for 60 minutes.
Comments
Older Comments
Show Dates