Mourning! By The Durham Revue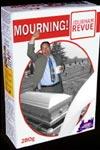 Show type: Edinburgh Fringe 2004
A woman is dead. Some men are sad.
Comedians
Reviews
Original Review:
Durham Revue's 2004 offering suffers from having the same basic theme as the Perrier-nominated Epitaph ­ the aftermath of a woman's death ­ and it doesn't come off too well in the comparison.
For they use the premise merely as an excuse for some knee-jerk low-level stupidity; as evidenced by the way they chose to kill off their heroine as being gnawed to death by squirrels, rather than anything more inventive or more believable.
Several of the sketches apply the same formula of considering inappropriately jolly or dismissive reactions to death, whether it be from the post-trauma counsellors with party hats and whistles, the uninterested man too selfish to console his grieving girlfriend or the vicar bored with performing the same funeral service over again. It makes for quite repetitive comedy.
Not everything is linked to this central theme. There are a few quirky ideas that do come off, notably the boxer with a hammer for a hand or the man who likes his lovers to indulge his lobster fetish, even if there is something of a struggle to build past the original idea.
What they have got in abundance is youthful energy, which especially comes to the fore in musical numbers such as the opening Amateur Cremation Club. A few quickies also keep the pace frisky, even if the jokes range from the decent to the appalling.
The lively performances are better than you'd have a right to expect from a student comedy troupe, as are many of the offbeat concepts, even if they fail to capitalise on their inspiration.
A rare exception is a scene mocking people's reaction to disability, which is a perfectly-formed pearl in its own right, and, significantly, kept in the realms of the credible. But it's counterbalanced by many more examples like the dull, pointless song about a giraffe with a very short neck, or a parody of tampon adverts.
An inconsistent show, then, not without some flickers of promise ­ but flickers that are too often extinguished.

Comments
Older Comments
Show Dates