My Life As A Ten Year Old Boy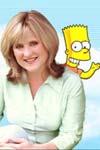 Show type: Edinburgh Fringe 2004
Emmy-winning voice-over actress/performer Nancy Cartwright premieres her new one woman show at the fringe. Behind the scenes look at the Simpson's jam-packed with stories, anecdotes, video clips and audience participation. She's Bart Simpson. Who the hell are you?
Comedians
Reviews
Original Review:
Nancy Cartwright is a small, middle-aged blonde ­ who, if the reams of publicity have somehow escaped your attention ­ happens to provide the voice of Bart Simpson.
Thanks to a small battalion of talented scriptwriters and the genius of creator Matt Groening, the animated show is consistently the funniest thing on TV. But alone on stage, without that substantial backup, Cartwright flounders considerablt.
The result is that this behind-the-scenes 'expose' is akin to watching DVD extras ­ but without the main feature.
Cartwright's one-woman show is introduced by a tacky video-montage of her CV, highlighting her other characters, including the slow-witted Ralph Wiggum, bully Nelson Muntz and one of the Rugrats. Among the footage is Bart and pals singing in a boy band, which seems something a bit of a cheek since those voices were supplied by N-Sync.
Footage from The Simpsons usas funny as you'd expect, as are the one-liners from past episodes that Cartwright later recites out of context. But there's something very odd about paying up to £16.50 to laugh at something that's free on TV.
Even when she's talking about her own life, Cartwright only really gets laughs when she's quoting someone else, whether it be Rita Rudner or an obscure (at least for Scotland) American anchorman.
Her own words are twee and anodyne, with the authenticity of the cringeworth, stilted and insincere tributes publicists write for awards ceremonies.
The man who plays Homer is 'a genius', the woman who plays Marge 'a total pro'. The show attracts guest stars like Meryl Streep ('amazing'), Mel Gibson and Elizabeth Taylor; all of whom she gushes over.
Anyone looking for any revelations or scandals is going to be seriously disappointed. "I'm not here do discuss the recent tense salary negotiations," she says. Heaven forbid, that might be interesting
It seems harsh to dismiss Cartwright for being generous, upbeat and full of praise, but when she says of The Simpsons' lucractive success: "It truly enhances me as an artist," you know it's come straight from the book of luvvie clichés.
She also does a lot of work for charity, and, thank you for asking, yes she does like to talk about it. "What I love most [about my job] is the chance to give back," she says before sharing a tale of an uplifting meeting a terminally-ill boy. The sentiment is more than admirable, but it seems more than manipulative ­ especially to us Brits who tend to have a much more cynical attitude about such things than your average American.
But Cartwright has made precious few concessions to her local audience. "How many of you plan your fall schedules around The Simpsons Halloween specials?," she asks, seemingly oblivious to the fact it's autumn; Halloween's no big deal, and we end up with the specials at just about any time of the year. But nothing will distract her from her carefully rehearsed script.
There are a few treats. Hearing Bart unleash a barrage of four-letter words is a guilty pleasure, the sound effects she used as her childhood party pieces still impress and entertain, and the a cappella song she bravely sings as Bart is impressive.
But you're not getting anything here that a Simpsons video and a quick trawl of the countless fan sites would reveal. Now, Cartwright, write out on the blackboard 50 times: "If I'm going to exploit the Simpsons name, I must do it better than this."

Comments
Show Dates