Jeremy Lion's Happy Birthday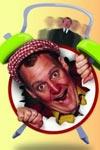 Show type: Edinburgh Fringe 2004
After the extraordinary success of last year's Christmas celebration, Jeremy and his pianist Leslie return with a fun-packed hour of cakes, balloons, puppets, songs, wine and crisps! Birthday fun for all the family. Not suitable for children.
Comedians
Reviews
Original Review:
For a character that's perpetually sozzled, children's entertainer Jeremy Lion has sure got legs.
This second full-length offering from Justin Edwards' gloriously over-the-top creation is as stupidly, riotously funny as ever. And it's so funny because it's so very, very wrong.
Lions is as suitable a children's entertainer as Michael Jackson, which is why under-14s are not permitted into his show. It's political correctness gone mad. So this supposed showcase is designed to demonstrate his wide repertoire to parents who might want to book him to make their beloved offspring's birthday all the more special.
He'll certainly make it a day they'll never forget, with ghastly Special Brew-fuelled antics that will haunt their every dream for all eternity.
Backed by pianist Leslie ­ who also doubles as a one-man Beatles tribute called The Fab One ­ this jaded, lonely and terrifyingly inept monster unleashes a series of side-splittingly inappropriate skits. Some simply highlight his incompetence, but the best take the sort of hideously sinister turns which go a long way to explaining why clowns are considered evil.
The scale and ambition of these grotesque nightmares alone is hilarious, from Mr Shush, the deformed puppet designed to silence youngsters, to Octopus Rhyme, an eight-legged leviathan designed to educate children about the dangers of the seaside, such as sunburn, broken bottles and predatory paedophiles.
Edwards boozes, sweats and lurches his way through a worryingly convincing performance ­ making up for in spirit what he lacks in good taste. And you just know he made all those props himself.
The odd sketch doesn't quite come off ­ such as the deliberately cheap film demonstrating the origins of the birthday which gives Edwards the chance for a well-earned breather ­ but there are no more than a couple that don't quite work.
No, for the bulk of the chaotic hour, this is helplessly funny and stupidly puerile stuff. Abandon any Edinburgh pretensions you may have, and go laugh like a drain at a drunkard with eight arms and a gelatinous head. You won't see a funnier image anywhere.
Comments
Older Comments
Show Dates