The Trap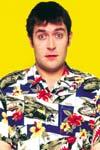 Show type: Edinburgh Fringe 2003
Five-star sketch comedy trio return to the Fringe with a brand new hour of physical sketch comedy and aural trickery. In a Portakabin.
Comedians
Reviews
Original Review:
The Trap were one of the most criminally overlooked joys of last year's festival, their sketches sparkling with audacious and hilarious innovation, yet attracting a fraction of the plaudits of a comparable stand-up.
Expectations, then, were high for this year's follow-up, Perhaps too high, as it's ever so slightly disappointing that this talented trio haven't quite managed to scale the same scintillating heights again.
There are still dazzling displays of invention and wit that put other sketch groups to shame, but this time around the sublime stuff is only part of the show, not all of it.
The Trap are at their best when they play with the conventions of comedy, taking accepted techniques apart and putting them back together - but in a different order. And with a screw loose.
Audience banter is brilliantly sent up with this technique, a punter inadvertently picked out the crowd is accidentally humiliated and alienated and finally, and deliberately, victimised.
The ideas are many and varied - but not consistently funny, as for every fabulous segment like that, another will be a little ill-thought-out.
But all are brilliantly executed. Dan Mersh, Jeremy Limb and Paul Litchfield are all very strong performers - talents they best display in a couple of tight-as-a-drum physical routines.
The climax is another of its triumphs, cleverly incorporating all the show's props into a brilliantly-orchestrated soundtrack that relies on split-second timing from the trio.
It's possible these three have spread their ideas a little too thin this year - they are also responsible for the similarly uneven Bad Play - but they do remain one of the most innovative sketch groups around. At their best, they are untouchable.
Comments
Older Comments
Show Dates